Dell EMC PowerEdge R640 Rack Chassis (1U) – Intel Xeon Silver 4210

Dell EMC PowerEdge R640 combines density, performance and scalability to optimize application performance and data center density.
PowerEdge R640 Rack Chassis (1U) Processor: Intel Xeon Silver 4210 (2.2GHz/3.20GHz, 14 MB L3 Cache, 10Core/20 Threads) 85W Memory: 16GB (1*16GB) RDIMM, 2666T/s, Dual Rank Internal HDD: (1) Dell 1.2TB 10K RPM SAS 12Gbps 2.5in Hot-plug Hard Drive,14G, CusKit Storage controller: PERC H730P RAID Controller, 2GB NV Cache, Mini card Optical Drive: 16X DVD+/-RW ROM Drive SATA Power supply: Hot-plug, Redundant Power Supply (1+1), 750W Network interfaces: Broadcom 57416 Dual Port 10GbE BASE-T & 5720 Dual Port 1GbE BASE-T, rNDC Systems Management: iDRAC9 Express Sliding Ready Rack Rails with Cable Management Arm Warranty: 3Year Basic – Next Business Day (Emerging Only)
Uncompromising performance and density for data center productivity and scale
Dell EMC PowerEdge R640 is the ideal dual-socket platform for dense scale-out data center computing and storage. Benefit from the flexibility of 2.5" or 3.5" drives, the performance of NVMe and embedded intelligence to ensure optimized application performance in a secure platform. With embedded diagnostics and SupportAssist, the R640 delivers maximum uptime in a worry-free environment.
Ideal workloads:
Dense software-defined storage

Service providers: application tier

Dense private cloud

Virtualization

HPC
Drive transformation with the Dell EMC PowerEdge portfolio
Data center evolution starts with modern platforms that easily scale and are optimized for application performance. Dell EMC PowerEdge R640 is built upon a scalable system architecture and provides the choice and flexibility to easily meet performance demands.
Simplify deployment and easily scale from 3 to 1000+ nodes for software-defined storage with Dell EMC Ready Nodes.
Maximize performance with up to 10 NVMe drives and 24 DIMMs, 12 of which can be DCPMMs or NVDIMMs
Scale compute resources with 2nd Generation Intel® Xeon® Scalable processors, and tailor performance based on your unique workload requirements.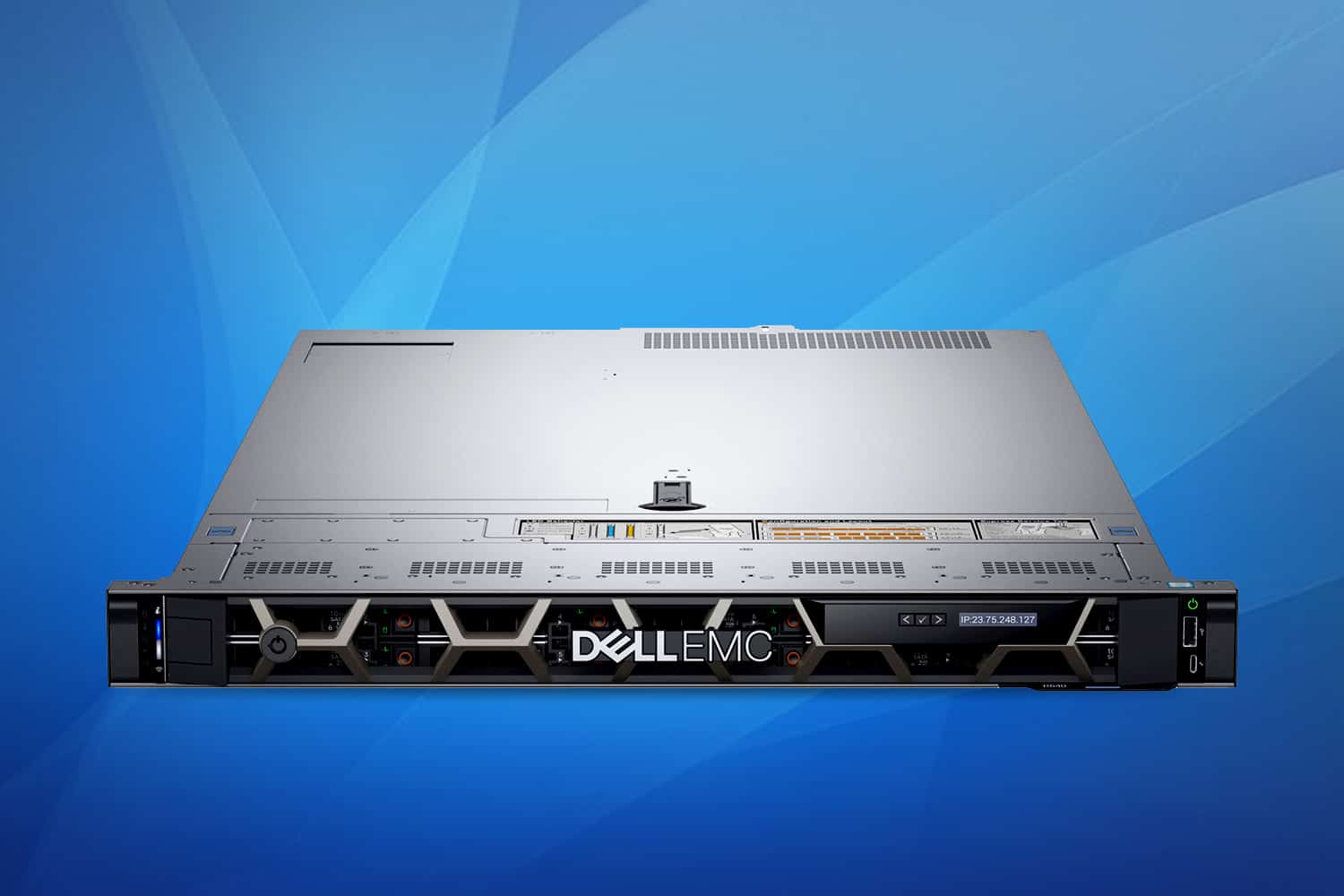 Automate productivity with intelligent, embedded management
Dell EMC PowerEdge R640 automation and intelligent management mean you spend less time on routine maintenance so you can focus on bigger priorities.
Help maximize uptime and reduce the IT effort to resolve issues by up to 72%1 with Pro Support Plus and Support Assist.

Leverage existing management consoles with easy integrations for VMware® vSphere®, Microsoft® System Center and Nagios®.

Improve productivity with agent-free Dell EMC iDRAC9 for automated, efficient management.

Simplify deployment with Open Manage next-generation console and server profiles to fully configure and prep servers in rapid, scalable fashion.
Fortify your data center with comprehensive protection
Dell EMC PowerEdge R640 provides a comprehensive, cyber-resilient architecture with security embedded into every server to protect your data.
Protect server configuration and firmware from malicious changes with new Configuration Lock-down.

Use system erase of local storage to help ensure data privacy when you repurpose or retire servers.

Automate updates that check file dependencies and proper update sequence, before deploying them independently from the OS/hypervisor.

Take control of your firmware consoles with embedded authentication that is designed to allow only properly designed updates to run.
Dell EMC PowerEdge R640 – SPECIFICATIONS
Processor: Up to two 2nd Generation Intel® Xeon® Scalable processors with up to 28 cores per processor
Height: 42.8mm (1.69")
Width: 482.0mm (18.98″)
Depth: 808.5mm (31.8″)
Weight: 21.9kg (48.3 lbs.)
DIMM Speed: Up to 2933MT/s
Memory Type:
• RDIMM
• LRDIMM
• NVDIMM
• DCPMM (Intel® Optane™ DC persistent memory)
Memory Module Slots:
• 24 DDR4 DIMM slots (12 NVDIMM or 12 DCPMM only)
• Supports registered ECC DDR4 DIMMs only
Maximum RAM:
• RDIMM 1.53TB
• LRDIMM 3TB
• NVDIMM 192GB
• DCPMM 6.14TB (7.68TB with LRDIMM)
Network Options:
• 4 x 1GbE
• 2 x 10GbE + 2 x 1GbE
• 4 x 10GbE
• 2 x 25GbE
Regulatory
• Product Safety, EMC and Environmental Datasheets
• Dell Regulatory Compliance Home Page
• Dell and the Environment
Embedded / At-the-Server:
• iDRAC9
• iDRAC RESTful API with Redfish
• iDRAC Direct
• Quick Sync 2 BLE/wireless module
Internal Controllers: PERC H330, H730P, H740P, HBA330
Boot Optimized Storage Subsystem: HWRAID 2 x M.2 SSDs 120GB or 240GB
Accelerators:
• Up to one single-width FPGA
• Up to three single-width GPU (NVIDIA T4)
Power Supplies
• 495W Platinum
• 750W Platinum
• 750W 240HVDC Platinum
• 1100W 48VDC
• 1100W Platinum
• 1100W 380HVDC Platinum
• 1600W Platinum
• 750W Titanium
• Hot plug power supplies with full redundancy option
• Up to 8 hot plugs fans with full redundancy
PCIe: 3 x Gen3 slots (all x16)
Video Card : 1 x VGA
Bezel: Optional LCD bezel or security bezel
Form Factor: 1U Rack Server