LenovoThinkpad T Series : Built to perform and engineered to endure, our flagship business line boasts our most customizable laptops. Features like blazing-fast memory and cutting-edge storage options, along with the latest technology from Intel®, AMD, and NVIDIA®, make the ThinkPad T Series the ideal choice to take your business to the next level.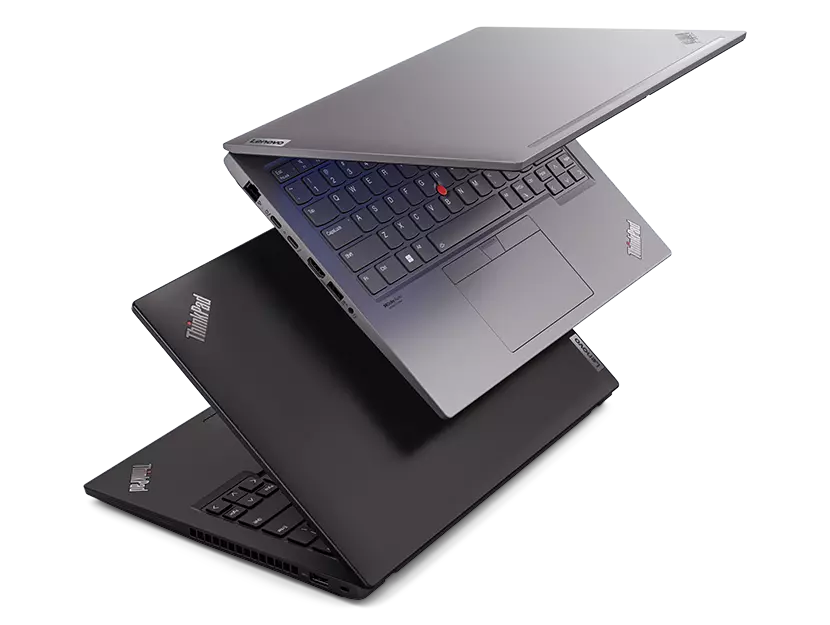 Trusted quality is a given
With more than 30 years of innovation and reliability behind ThinkPad, our T Series delivers the dependability you appreciate and expect. Whether it's productivity-enhancing features that increase employee efficiencies, or offerings that improve remote collaboration, these powerful devices have it all—and then some. From the renowned TrackPoints to the ergonomic keyboards, to the range of vibrant display options and earth-friendly certifications, there's a T Series laptop that's right for your business.
Keeps up when you're on the go
Whether you need epic battery life with rapid-charging technology, blazing fast file-loading, bootups that take just seconds, or premium graphics options, our T Series delivers. These powerful laptops with a starting weight of well-under 1.25kg / 3lbs for the slim models keep up with late-nights and early morns.
Engineered to endure
We test ThinkPad devices against 12 MIL-SPEC 810H requirements and more than 200 quality checks to ensure they run in extreme conditions. From the Arctic wilderness to desert dust storms, from zero-gravity to spills and drops, T Series laptops are engineered to endure.
Security as integral as your DNA
Biometrics provide extra security on our ThinkPad T Series laptops—from power buttons integrated with fingerprint readers to facial-recognition software that works with IR cameras. ThinkShield, our comprehensive portfolio of security solutions based on the latest technology innovations is integral to all our ThinkPad laptops. Combined with the built-in security features of up to Windows 11 Pro, your security is our priority.
The ThinkPad T Series laptops are designed to meet the needs of business users who require a powerful and portable computing device. They typically feature high-quality materials, such as magnesium alloy or carbon fiber chassis, which provide strength and durability. The laptops also undergo rigorous testing for durability, including military-grade specifications for ruggedness and reliability.
Some common features and specifications found in the ThinkPad T Series include:
Performance: The laptops in the T Series are available with various processor options from Intel, ranging from entry-level CPUs to high-performance Core i7 or Xeon processors. They often come with ample memory and storage options to handle demanding tasks.
Display: The ThinkPad T Series offers different display sizes, typically ranging from 14 to 15.6 inches. The laptops commonly feature Full HD (1920×1080) or higher resolution displays, with some models offering touch-screen functionality.
Keyboard and TrackPoint: ThinkPad laptops are known for their excellent keyboards. The T Series features the iconic ThinkPad keyboard with comfortable key travel, spill resistance, and optional backlit keys. Additionally, most models include a red TrackPoint pointing stick for precise cursor control.
Security: Security is a key aspect of the ThinkPad T Series. It often includes features like a fingerprint reader, integrated smart card reader, and optional infrared camera for facial recognition. Some models may also support hardware-level encryption and TPM (Trusted Platform Module) for enhanced data protection.
Connectivity and Ports: ThinkPad T Series laptops typically offer a range of connectivity options, including USB-A and USB-C ports, HDMI or DisplayPort for video output, an Ethernet port, audio jacks, and an SD card reader. Some models may also feature Thunderbolt 4 ports for high-speed data transfer and external display connections.
Battery Life: Lenovo emphasizes battery life on the T Series, aiming to provide all-day usage. The laptops often offer extended battery options and power-saving features to maximize productivity on the go.
Software and OS: ThinkPad laptops usually come pre-installed with the Windows operating system. Lenovo also includes its proprietary software, such as the ThinkPad BIOS settings, Lenovo Vantage for system management, and the TrackPoint utility.
Overall, the ThinkPad T Series is designed to cater to the needs of business professionals who require a reliable and powerful laptop for productivity and mobility. It combines robust hardware, durability, security features, and a comfortable user experience, making it a popular choice among professionals in various industries.
The ThinkPad T Series laptops from Lenovo are a well-regarded line of business-oriented laptops. Here are some notable models within the ThinkPad T Series:
ThinkPad T14: The ThinkPad T14 is a 14-inch laptop that offers a balance between portability and performance. It comes with various processor options, up to an Intel Core i7 or AMD Ryzen 5000 series, and supports up to 64GB of RAM. The T14 offers a range of display options, including Full HD and WQHD resolutions, and it can be configured with integrated or dedicated graphics. It also features a durable build, solid keyboard, and a good selection of ports.
ThinkPad T14s: The ThinkPad T14s is a slim and lightweight variant of the T14. It offers similar specifications but in a thinner and lighter form factor, making it ideal for professionals who prioritize portability. It features a 14-inch display with Full HD or WQHD resolution options, and it can be configured with up to an Intel Core i7 or AMD Ryzen 5000 series processor. The T14s also includes security features like a fingerprint reader and an optional PrivacyGuard display.
ThinkPad T15: The ThinkPad T15 is a 15.6-inch laptop that provides a larger screen real estate for users who need more screen space. It offers similar processor options as the T14, with up to an Intel Core i7 or AMD Ryzen 5000 series. The T15 can support up to 128GB of RAM and can be configured with integrated or dedicated graphics. It also features a variety of display options, including Full HD, WQHD, or UHD resolutions.
ThinkPad T15g: The ThinkPad T15g is a more powerful and premium variant within the T Series. It is aimed at professionals who require high-performance computing, such as content creators or data scientists. It offers a 15.6-inch display with Full HD or UHD resolution options and can be configured with up to an Intel Core i9 or Xeon processor. The T15g also includes dedicated NVIDIA graphics for enhanced graphical performance and offers up to 128GB of RAM.
These are just a few examples of the ThinkPad T Series laptops, and Lenovo periodically releases new models with updated specifications and features. The T Series is known for its reliability, durability, and business-centric features, making it a popular choice for professionals seeking a reliable and powerful laptop for their work needs.