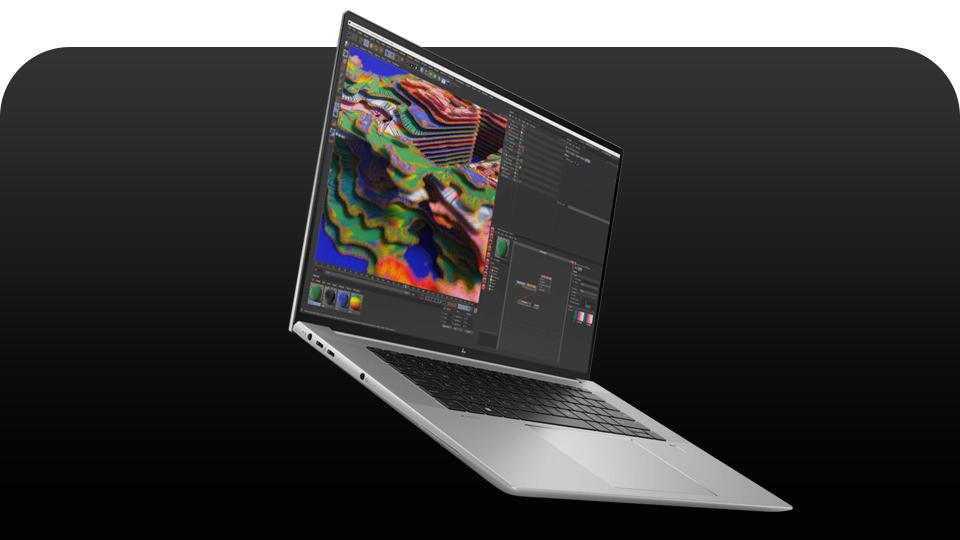 In today's fast-paced world, professionals require powerful and efficient tools to tackle demanding tasks on the go. The HP ZBook Studio Mobile Workstation is an exceptional device that promises to deliver top-tier performance and mobility to creative and technical users. With its impressive specifications and cutting-edge features, the ZBook Studio sets a high standard for mobile workstations. In this comprehensive review, we will delve into the capabilities of this remarkable machine and explore how it can enhance productivity and creativity for professionals across various industries.
Design and Build Quality:
The HP ZBook Studio boasts an elegant and sleek design, with a slim aluminum chassis that exudes sophistication and durability. Its lightweight construction ensures portability without compromising on sturdiness. The workstation's 15.6-inch display provides ample screen real estate, making it ideal for graphic designers, video editors, and other professionals who rely on visual precision. The display is available in multiple configurations, including touch-enabled options for increased versatility.
Performance:
Equipped with Intel's latest processors, the ZBook Studio delivers exceptional computing power. Users can choose from a range of processor options, including the Intel Core i7 and i9 series, to meet their specific requirements. The workstation also supports up to 64GB of RAM and includes high-speed storage options such as PCIe NVMe SSDs, ensuring quick access to large files and seamless multitasking. Whether you're rendering complex 3D models, editing high-resolution videos, or running resource-intensive simulations, the ZBook Studio handles these tasks with ease.
Graphics and Display:
The HP ZBook Studio offers impressive graphics capabilities, making it a go-to choice for professionals working with demanding visual applications. With NVIDIA Quadro graphics cards, including the powerful RTX series, the workstation delivers real-time ray tracing and accelerated rendering, enabling designers and animators to bring their creations to life with unparalleled realism. The 4K display option, coupled with exceptional color accuracy and wide viewing angles, guarantees an immersive visual experience.
Connectivity and Expansion:
The ZBook Studio provides an array of connectivity options to ensure seamless integration with external devices and networks. It offers Thunderbolt™ 4 ports, USB 3.1 Type-A ports, HDMI, and an SD card reader, facilitating easy data transfer and connectivity with peripherals. Additionally, the workstation supports multiple external displays, enabling users to expand their workspace and enhance productivity. With the inclusion of Wi-Fi 6 and Bluetooth 5.0, professionals can enjoy fast and reliable wireless connectivity.
Software and Security Features:
The HP ZBook Studio comes preloaded with the latest Windows operating system, ensuring compatibility with a wide range of professional software applications. HP's proprietary security features, such as HP Sure Start, HP Sure Sense, and HP Sure View, protect sensitive data and enhance privacy, making it a trusted choice for professionals dealing with confidential information.
Mobility and Battery Life:
Despite its powerful performance, the ZBook Studio doesn't compromise on mobility. With its slim form factor and lightweight design, professionals can carry this workstation with ease, making it an excellent choice for individuals who frequently work outside the office. The battery life is impressive, offering extended usage periods without needing to recharge frequently, ensuring productivity throughout the day.
The HP ZBook Studio Mobile Workstation is a powerful and feature-rich device that caters to the needs of professionals in various fields. Its sleek design, robust performance, stunning graphics, and versatile connectivity options make it an ideal companion for creative individuals and technical experts who demand uncompromising power and reliability. With its exceptional specifications and advanced security features, the ZBook Studio sets a new benchmark for mobile workstations, providing professionals with the tools they need to unleash their full potential, no matter where they are.