Do you know that a reliable enterprise-class server can easily meet your budget?
HPE Proliant ML30 Gen10 server
The HPE ProLiant ML30 Gen10 server is a powerful yet affordable tower server designed for small offices, remote and branch offices to run on-premise and Hybrid Cloud solutions, delivering enterprise-class performance, security, reliability, and expandability at a lower cost. Just a small change can give you an extra edge. Hewlett Packard Enterprise builds security right into the server with HPE iLO silicon root of trust, making the HPE ProLiant ML30 Gen10 server one of the world's most secure industry-standard servers. Redundant power supply option and up to 4 LFF or 8 SFF hot-plug HDDs provide availability and flexibility. The enhanced expansion capability allows you to upgrade with SAS controllers, networking cards, or graphics cards as your business grows. You will be surprised at how much benefit you can get with HPE ProLiant ML30 Gen10 server.
What's new
Supports Intel® Xeon® E-2100/2200 processor series with up to 6 cores and 83W, 8th/9th Core™ i3 and Pentium® G processors.
HPE 361i 1Gb 2-Port network adapter on models with the new Intel® Xeon® E-2200, 9th Gen Core™ i3 and Pentium G processors.
HPE InfoSight provides a cloud-based analytics tool that predicts and prevents problems before your business is impacted.
2666 MT/s HPE DDR4 Standard Memory UDIMM offering 8 GB, 16 GB. and a maximum of 64 GB memory capacity.
Four expansion slots for more flexible usage – two x16 and two x8 connectors.
Dedicated HPE iLO port and serial port option kit.
FEATURES
The HPE ProLiant ML30 Gen10 server, powered by up to 6 cores in the Intel Xeon E Processor and up to 64 GB of 2666 MT/s DDR4 ECC UDIMM, delivers abundant performance for small- to mid-sized business applications.
Up to 61.44 TB storage capacity makes the HPE ProLiant ML30 Gen10 server an ideal data storage solution for your business to cope with the increasing amount of data. Onboard M.2 slot with NVMe SSD support delivers outstanding speed for the boot drive.
The option of a dedicated HPE iLO port allows you to dedicate more bandwidth to network functions to achieve higher network performance.
The embedded SATA HPE Smart Array S100i Controller ships standard, and the redesigned HPE Smart Array Controllers allow you the flexibility to choose the 12 Gbps controller that is most suited to your environment.
With the selection of Hewlett Packard Enterprise qualified professional 3D graphics cards, the HPE ProLiant ML30 Gen10 server can easily handle graphical workloads such as medium size CAD models, basic digital content creation, and medical imaging.
Dell PowerEdge T40
The PowerEdge T40 –The Foundational IT Building Block for Your Business.
Your foundational, entry-level server
The Dell PowerEdge T40 tower servers is a dependable and efficient on-site server you can wisely invest in to support your small business, with foundational features that address common workloads such as file consolidation, storage and sharing.
Invest wisely for your small business
The dependable Tower Servers Dell PowerEdge T40 and Dell support team will simplify your everyday small business challenges.
Count on Dell reliable support with a one-year standard next business day hardware warranty or select up to a 5 year standard warranty.
Control your data and data access on-site.
Manage expenses by avoiding unknown public cloud processing and storage costs.
Trust the Dell assured supply chain.
Efficiently support your small business with foundational features
The Dell PowerEdge T40 tower servers efficiently supports your day-to-day operations so you can focus on your business.
Work more efficiently with improved performance due to a 25% faster data transfer speed, a faster CPU speed, and a 27% faster turbo speed with the Intel® Xeon® E-2224G processor.1
Share more with team members and customers with 50% increase in on-site data storage.1
Place your tower conveniently with a 23% smaller design.1
Easily consolidate, store, and share files on-site.
Lenovo ThinkSystem ST50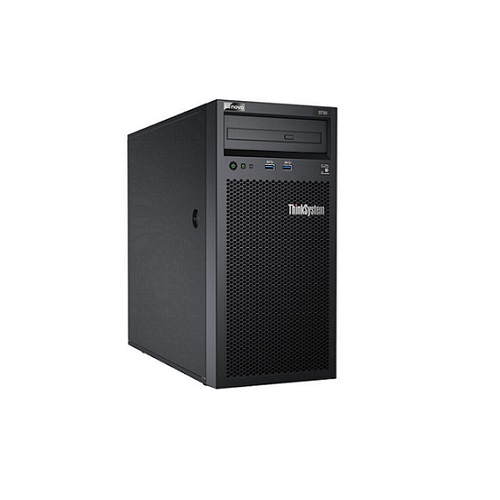 Powerful yet affordable
The Lenovo ThinkSystem ST50 tower servers provides an easily manageable, ideal first server for a small-to-medium-sized business, and remote or branch office, or retail environments looking to increase productivity.
A value-optimized motherboard design paired with the latest Intel® Xeon® E-2200 processors extend a generation-to-generation 2-digit percentage performance increase and offer an aggressive price point for the ST50 versus high-end desktops, and with higher enterprise-level capabilities than a desktop alternative.
Flexible value
The ThinkSystem ST50 tower servers is designed with components common across the portfolio, high reliability, and essential scale-out capabilities for growing businesses including GPU support and array of compatible storage drives.
Save time and reduce costs with Intel Active Management Technology (AMT), which monitors system health and prevents data disruption, while the USB version of Lenovo's XClarity provisioning manager enables easy setup and firmware upgrades.
Environmentally friendly
The compact ThinkSystem ST50 tower servers excels at being inconspicuous in an office environment thanks to its compact size and whisper-quiet operation.
Energy-efficient design elements, including the Intel Xeon E CPU and TruDDR4 memory, reduces power consumption under standard workloads, providing energy cost-savings in addition to increased server uptime and workplace productivity.